The SOUTHERN DALLAS PROGRESS CDC's mission is to empower, enable and support community members in their efforts to revitalize Southern Dallas communities and neighborhoods.
SOUTHERN DALLAS PROGRESS COMMUNITY DEVELOPMENT CORPORATION serves as a vehicle through which residents and businesses can work together to solve problems and improve life in their community.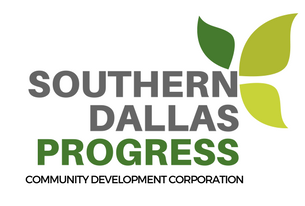 To further the SOUTHERN DALLAS PROGRESS COMMUNITY DEVELOPMENT CORPORATION's mission, the following activities may be carried out:

1. To initiate, promote and assist in the development of housing, economic development, and community improvement programs and activities.

2. To help neighborhood leaders and residents participate in planning and carrying out community improvement activities, such as the creation of home ownership opportunities, the promotion of rehabilitation programs, housing development and rehabilitation, housing management, open space projects and economic development projects.

3. To improve the circumstances of the neighborhood's low- and moderate-income residents by reducing the level of unemployment and underemployment through the creation of job opportunities.

4. To organize neighborhood residents of all ages to identify and respond to community issues.

5. To provide facilities, personnel and funds for studies, surveys and demonstration activities leading to effective programs to be carried out by private and public institutions and agencies directed toward the achievement of the goals of the SOUTHERN DALLAS PROGRESS COMMUNITY DEVELOPMENT CORPORATION.

6. To work cooperatively with existing public and private agencies toward the effective utilization of human resources in the community.

7. To make contributions, grants or loans of funds or property, with or without interest, that will further the objective of the SOUTHERN DALLAS PROGRESS COMMUNITY DEVELOPMENT CORPORATION and accomplish its purposes.

8. To acquire by purchase, gift, devise, bequest, lease or otherwise, to own, hold, use, maintain, improve, and operate, and to sell, lease and otherwise dispose of, real and personal property to the extent authorized by law.
​
9. In general, to perform and do all other acts and things incidental to or in furtherance of the accomplishment of the proposes of the SOUTHERN DALLAS PROGRESS COMMUNITY DEVELOPMENT CORPORATION, and to use and exercise all powers conferred from time to time by the laws of the State of Texas upon corporations organized under chapter 180, of the General Laws.

10. All of the corporate activities shall be carried on within the meaning of Section 501(A) and Section 501(C)(3) of the Internal Revenue Code of 1954 as amended, and within the meaning of chapter 180 of the General Laws of the State of Texas, as amended.
CITY OF DALLAS FINANCIAL BUDGET
Open Budget is part of our commitment to improving transparency by providing an in-depth view of the City's financial information.
This site provides a simpler means of exploring and analyzing the City's Operating Budget. The charts, graphs, and tables are all highly interactive and will allow users with or without budget experience to better understand how the City allocates funds.