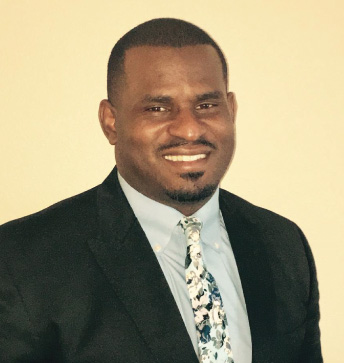 James H. McGee
President/Board Chair
James McGee is a Transformational Leader that actively demonstrates servant leadership, with over 20 years' experience in establishing valuable relationships with numerous people from a variety of backgrounds and demographics to develop and execute impactful initiatives.
For the last four years, James has served at a Fort Worth-based Community Bank as a Senior Compliance Officer where he works closely with the Bank's business partners, providing insight into the regulatory and legal requirements affecting their daily activities and ensuring adequate controls are in place to mitigate compliance risks. As a part of his commitment to the Fort Worth community, he serves on the Bank's Diversity and Inclusion Committee and Communication and Engagement Committee, bridging the gap, raising awareness of community involvement initiatives to fellow colleagues and senior leadership.
In the past, James has held a variety of positions with major financial institutions such as Citibank, Caliber Home Loans and Bank of America that has allowed him the opportunity to hone his organizational, advocacy and cultural skills.
Through his passionate desire to serve James has positioned himself to be elected to join the Board of Directors of Junior Achievement of Fort Worth (Young Executive Society), Dallas Area Compliance Association and recently selected to serve the Southern Dallas Progress Community Development Corporation.
In addition, James serves on the Texas Mortgage Bankers Association's Regulatory Compliance Committee, Texas Mortgage Bankers Association's Young Mortgage Bankers Committee, American Bankers Association's Compliance Committee, Mortgage Bankers Association's Compliance Committee.
He is an active member of the Mortgage Action Alliance (MAA), Mortgage Compliance Professionals Association of America (MCPAOA) and National Association of Minority Mortgage Bankers of America (NAMMBA).
As James continues to expand his community involvement across the Dallas, Fort Worth metroplex he's become a strong supporter of organizations that are committed to educating and serving communities such as the African American Leadership Institute's Committee, BetterTarrant.com Advisory Committee and Fort Worth Metropolitan Black Chamber of Commerce's Economic Development Committee.
He is also a supporter of the Mortgage Banker's Mortgage Bound Banking, MPact (mPact is MBA's network for young professionals in the real estate finance industry), mPower (MBA Promoting Opportunities for Women to Extend their Reach), and Texas Mortgage Banker Association's Young Mortgage Bankers to encourage more professionals to join or further their career in the financial industry.
In 2016 and 2017, James was awarded the MBA's Diversity & Inclusion Scholarship, and awarded TMBA's Endowment Scholarship.
He is a proven leader with a passion and focus towards developing and inspiring people to work on self-improvement daily. In his career, he consistently demonstrates his commitment to leadership & development by being mentored, mentoring others, and advocating for equity in America.
A native Texan, James was raised in the Southern Sector of Dallas and attended Charles Rice Elementary and Atwell Middle School.